The
latest information of

SHOP NEWS shop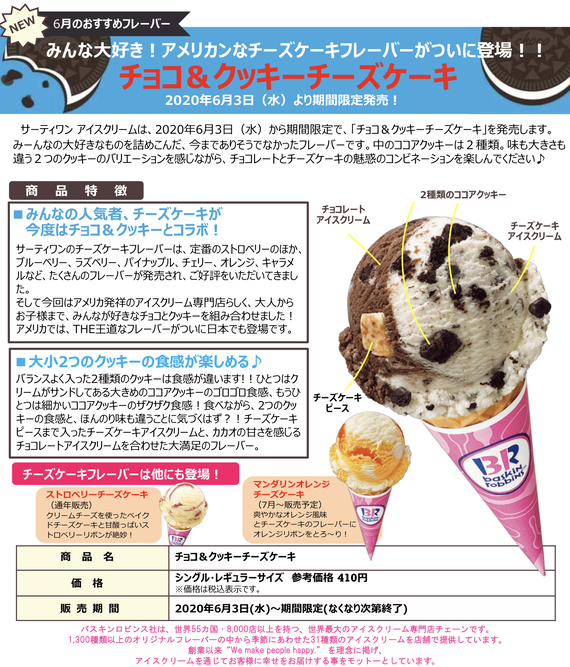 2020.06.03 improves

baskin 31robbins

31 Ice Cream releases "chocolate & cookies cheesecake" for a limited time from 6⽉3⽇ (⽔) in 2020
■Popular person, cheesecake of all are chocolate & cookies and collaboration this time!

Other than standard strawberry, blueberry, raspberry, pineapple, cherry, orange, much flavor including caramel were released, and cheesecake flavor of B-R 31 Ice Cream had favorable reception. And we put chocolate and cookies which all liked together from adult to child this time like store specializing in ice cream of origin in the United States! In the United States, Flavour which is THE royal road is Japan at last, but is appearance.

■We can enjoy texture of cookies of two big things and small things ♪ Two kinds of cookies contained in a good balance are different in texture! One is ku

Reem is crunchy texture of cocoa cookies that texture, the other are small rumblingly of sand large cocoa cookies which there is! Should you notice that taste is slightly different from texture of two cookies while eating? Flavor of large satisfaction that put cheesecake ice cream contained to cheesecake peace and chocolate ice cream which felt sweetness of cacao together.