The
latest information of

SHOP NEWS shop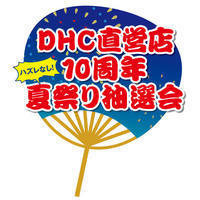 2017.08.09

DHC

Summer festival lottery holding of the tenth anniversary of DHC shop!
In commemoration of the DHC shop tenth anniversary, we hold "summer festival lottery of the tenth anniversary of DHC shop"!
It is very advantageous lottery where one of all ten kinds of prizes is by the purchase more than tax-included a total of 3,000 yen
★All ten kinds of prizes★
A prize (two): For trip to JTB ticket 50,000 yen
B prize (ten): DHC olives means means set I
C prize (20): Highest grade olive oil gourmet set
D prize (300): DHC supakoragensupurimu [sale name] DHC supakorasupurimu [humidity retention ingredient] collagen (dipeptide -8)
E prize (500): DHC re-vita- rising moisture nano mist [sale name] DHC moisture nano mist
F prize (1,000): For swift attack blueberry two drops indication /30 day a day
G prize (2,500): DHC lip gel liquid cosmetics
H prize (6,000): One piece of DHC medical use cam C whitening mask
I prize (10,000): Two skin care samples to trouble of skin
J prize: 100 yen OFF coupon which is usable at the time of visit on the next time

We look forward to visit of all of you

※You can participate once in 1 cashier.
※It is for total amount of money before various discount applications.
※We do not carry out in mail order, drugstore convenience store.